FREQUENTLY ASKED
QUESTIONS
WHAT IS FORTUNE AI INDICATOR ?
The FORTUNE AI INDICATOR is a powerful trading tool that has been designed to help traders achieve their financial goals. This professional indicator uses an advanced proprietary algorithm that runs continuously on the TradingView platform, providing traders with accurate Buy & Sell signals. Whether you are a beginner, intermediate or an advanced trader, the FORTUNE AI INDICATOR can help you improve your trading performance and achieve greater profitability.  Additionally, the indicator provides useful features like suggested stop loss levels, precise entry points, target levels, as well as market Buy-Sell walls and a comprehensive dashboard equipped with technical analysis tools. With the FORTUNE AI INDICATOR, you'll have a comprehensive trading tool that can help you make profitable decisions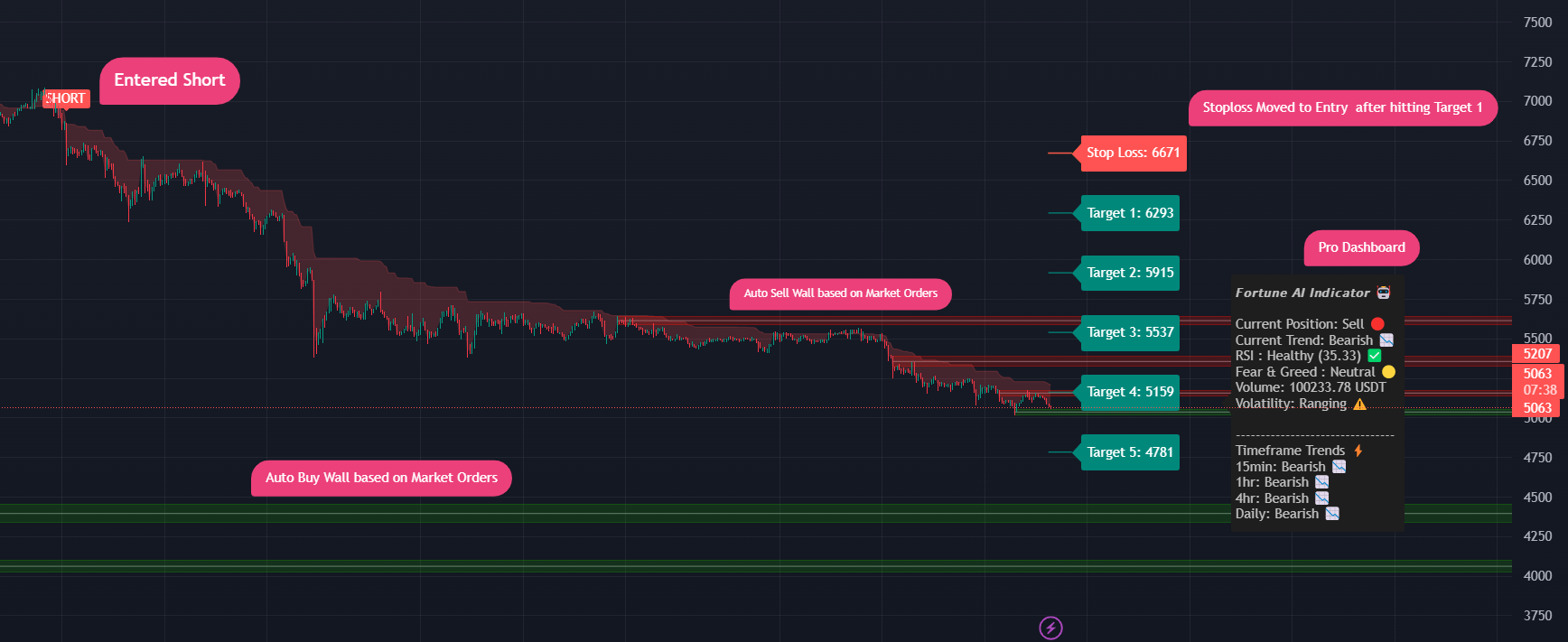 HOW DO I GET FORTUNE AI INDICATOR?
To get FORTUNE AI INDICATOR simply purchase membership. Once you have signed up, email instructions will be delivered and access will be granted shortly after.
HOW DO I USE FORTUNE AI INDICATOR ?
Here is a step-by-step tutorial on how to use the FORTUNE AI INDICATOR:
Create a TradingView account: If you don't already have an account on TradingView, you will need to create one. This is a free platform that offers charting and trading analysis tools.

Subscribe to the FORTUNE AI INDICATOR: Once you have a TradingView account, you can subscribe to the FORTUNE AI INDICATOR. You can do this by purchasing a subscription plan from the FortuneNode website.

Access the Indicator: After subscribing, you will receive an activation email that gives you access to the indicator. Log into your TradingView account and go to the "Invite-Only" scripts section. The FORTUNE AI INDICATOR will be located here.

Load the Indicator: To load the indicator onto your chart, simply click on the "Add to Chart" button. The indicator will then appear on your screen.

Analyze the Chart: Now that the indicator is loaded onto your chart, you can start analyzing the market. The indicator will provide you with Buy & Sell signals, as well as stop loss suggestions, entry points, and target levels.

Execute Trades: Based on the signals provided by the FORTUNE AI INDICATOR, you can execute trades with a broker or on an exchange. Make sure to follow the indicator's recommended stop loss levels to minimize your risk. Always remember to do your own research before executing trades. This can help you make informed decisions and potentially reduce the risk of losses.
By following these simple steps, you can start using the FORTUNE AI INDICATOR to trade the markets and achieve greater profitability.
DOES FORTUNE AI WORK ON MOBILE DEVICES?
Yes, Fortune AI is compatible with both the Tradingview website and the Tradingview App, which is available on both Android and iOS platforms. This means that users can access their Tradingview account and use Fortune AI from anywhere, at any time, using their preferred device. This provides greater flexibility and convenience for users, enabling them to make trades and monitor market trends from the comfort of their own homes or on-the-go. Whether you prefer to trade using your desktop computer or a mobile device, Fortune AI is the ideal solution for individuals who want to stay ahead of the market and make informed trading decisions.
IS THE BUY AND SELL INDICATOR SUITABLE FOR BEGINNERS?
Yes, it is. The indicator provides a clear picture of the current trend, helping beginners to avoid the common mistake of entering trades against the trend. Fortune AI ensures that you remain aligned with the trend, giving you a better chance of success. To further support your trading journey, you will have access to educational content that can help you to develop your skills and knowledge. And if you need additional assistance, our support team is always available to help.
DO WE ACCEPT CRYPTO AS A FORM OF PAYMENT?
Yes, Fortune Node does accept cryptocurrency as a form of payment.
WHAT MARKETS CAN I USE FORTUNE AI WITH?
The FORTUNE AI indicator is designed to work on a wide range of markets, including stocks, cryptocurrency, forex, futures, and commodities, on multiple timeframes such as 1 minute, 5 minutes, 30 minutes, 1 hour, 4 hours, 1 day, 1 week, and so on. This makes it suitable for various trading styles, whether you prefer scalping, swing trading, or even options trading. The indicator is flexible and can adapt to any trading style.
WHAT DO I NEED TO USE FORTUNE AI INDICATOR?
To use FORTUNE AI indicator, you will need the following:
A free account with Tradingview.com
A broker to place trades.  Example: Robinhood, Webull, MT4, Binance (any Exchange)
CAN I WIN EVERY TRADE USING THIS?
The Fortune AI is designed to provide you with a high level of accuracy in predicting market trends. However, it should be used as a tool to aid in discretionary trading and not to be blindly followed. The aim is to provide you with unique perspectives on any market available on TradingView, to assist you in making informed trading decisions.
DOES IT WORK ON METATRADER 4/5?
At Fortune AI, our indicators are exclusively designed to work on the Tradingview platform, both on the website and the mobile app, which is available for both Android and iOS. Our indicators allow users to analyze charts on Tradingview, wait for entry-setup signals from Fortune AI, and then execute trades through a broker, on MetaTrader4/5, or on any exchange or trading platform of their choice. This integration ensures that users have access to a comprehensive and seamless trading experience, giving them the tools and resources they need to make informed trading decisions and succeed in the Market.
ARE THERE ANY ADDITIONAL BENEFITS WHEN SUBSCRIBING TOFORTUNE AI?
Upon subscribing, you will not only receive access to the FORTUNE AI indicator, but also to exclusive educational content, and daily market newsletters.
Upon subscribing to a plan, you will have access to Fortune AI Indicator within a day after receiving your activation email. Fortune AI can be found in your Tradingview account under the "invite-only" scripts category. It is worth noting that a Tradingview plan is not necessary as the indicators work seamlessly with the free Tradingview plan. Additionally, you will also be given access to our educational Telegram channel focused on both Trading and Blockchain, providing ample opportunities to expand your knowledge.
DOES FORTUNE AI REPAINT ITS SIGNALS?
No, Fortune AI does not repaint its signals.
IS THIS BEGINNER FRIENDLY?
Yes, Fortune AI is designed to be user-friendly for beginners. Whether you are a seasoned trader or a beginner, Fortune AI can help you stay ahead of the market and make profitable trades. Additionally, the indicator works seamlessly with both paid and free Tradingview plans, so you can start using it right away without having to worry about any additional costs.
WHY DO I CHOOSE FORTUNE AI?
Fortune AI is an advanced Trading Indicator developed over the years. Most traders enter Positions just on the basis of price action, candles, patterns, or market structures. But they end up getting a stop loss due to market volatility because they opened positions without full confirmation. Traders usually lose their emotions while trading. They open positions on the basis of their psychology and emotions. They open positions on the basis of what they observe on the chart. Market Volume nowadays is more than 60% filled by the high-tech trading robot. So traders are trading against these high-tech trading robots. An infinite number of indicators are available in the market, but most of them are useless, inaccurate, or very complex to understand.
An optimal indicator should be accurate, properly backtested, simple to understand, must catch major market moves, and should be highly consistent. Today We're going to show you the best #1 trading indicator. It is an AI-powered algorithm that can accurately predict market direction! It is capable of detecting possible reversals and it can also spot unusual volumes to predict big pumps or dumps! It provides proper Targets with a Great RR Ratio. Fortune AI Provides BUY and SELL signals on the chart along with Entry, StopLoss, and Target prices, which helps a trader to enter a trade without wasting much time in analyzing the charts.
Compared to other paid indicators, Fortune AI offers a higher quality of features that other indicators don't possess. We also understand that beginner trader may not have as much of a budget to spend on tools & educational resources which is why we are the most affordable (and popular) premium indicator in the market. No need to spend hours looking at the charts, Get perfect signals at the right time. Start using Fortune AI Indicator to make your trading life easier.
WHAT IS FORTUNE AI PRO DASHBOARD?
Fortune AI indicator also includes Basic and Pro dashboard to check other technicals of any asset in the market. This indicator can be used by Scalpers, Day traders, Swing traders, and even position traders. This indicator is the best for both spots and futures trading. Fortune AI Algorithm is Properly Backtested and highly accurate. Our Technical Development and Research team has built this Algorithm and they are working regularly on more features and improvements in the algorithm
IS FORTUNE AI BETTER THAN MANUAL ANALYSIS?
In the current market, over 60% of the volume is algorithmic high-frequency trading. That means you are trading against computers. If you've ever played chess against a computer, you know that you're eventually going to lose. You might get lucky once or twice, but if play often enough then you are guaranteed to be the loser. The same rule applies to algorithmic trading. Trade with perfect signals using the No.1 Trading Algorithm. Perfection and Accuracy speak for themselves. Nothing can beat the Fortune AI Indicator in quickly and accurately predicting the market move. It doesn't matter whether it's a bull market or a bear market. It is optimized to predict the direction of any type of market. Did the market crash? No worries, it made good profits from the crash too! Use Fortune AI Indicator and start winning the trades.
Fortune AI is the #1 Trading tool to help you gain an Edge in the Market for simple and accurate trading. By using the Fortune AI Indicator, you will get a more clear picture of the market trend. Fortune AI provides a clear picture of the market by removing all the noise from the chart. It reduces the time spent on analyzing the market and increases the opportunity to enter and exit the market at the right time.
HOW DO I SETUP FORTUNE AI ON TRADINGVIEW?
To use the Fortune AI indicator, you need a Free Tradingview.com account and a Fortune AI Indicator subscription
Once you have both the perquisites met, you can follow the below steps to use the indicator:
Log in to the TradingView account in which you have Fortune AI Indicator access

Open a chart on which you want to use the Indicator

Once you open the chart, click on the "Indicators" option on the top toolbar. It will open a pop-up, on the popup click on "Invite-Only Scripts", and it will show Fortune AI Indicator if you have an active subscription. Once you click on it, it will add the indicator to the chart

Once you click on "Fortune AI Indicator", the indicator gets added to the chart 🙂
You will automatically receive access to Fortune AI Indicator within few hours after purchasing. It will show up in your indicators tab under "invite-only scripts" (Please note that the invite-only scripts tab will only show up after you have been granted access)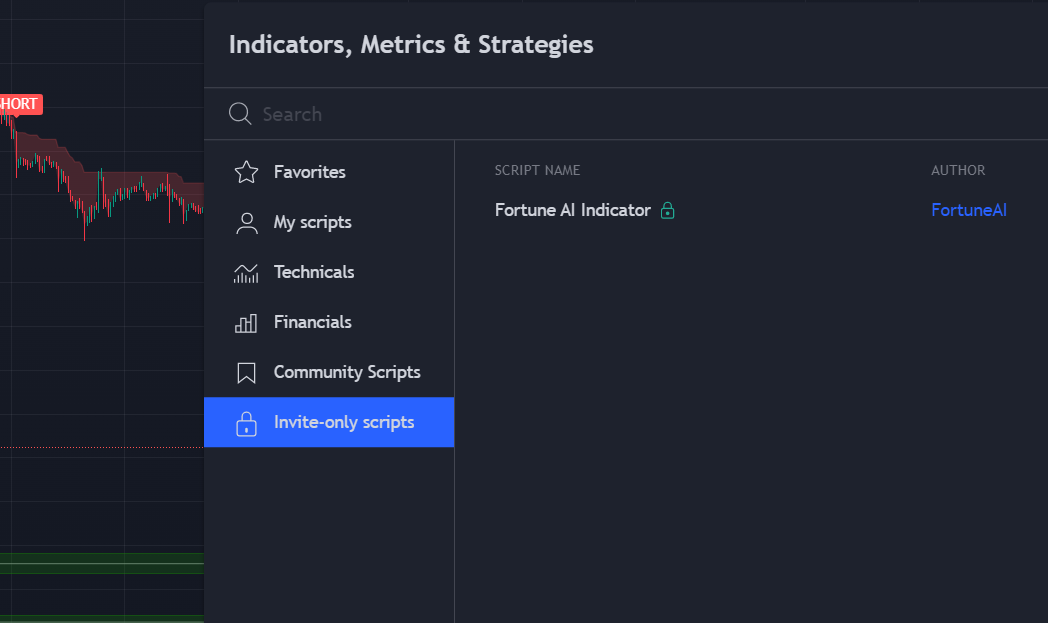 HOW DO I SETUP FORTUNE AI ALERTS?
To get notified/alerted when a buy or a sell signal appears on your chart please follow these steps:
1) Right-click your chart and click on "Add Alert" or Just Click on the "Alert" Icon

2) Then, change the condition to "FORTUNE AI"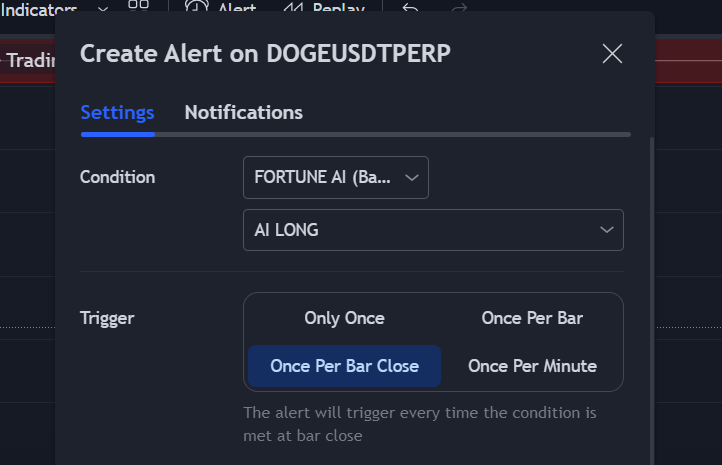 3) Choose whether you want to be notified for either the next LONG ALERT or SHORT ALERT and click "create" on the bottom of the dashboard. You will now be notified the next time a signal is generated on the chart